Lest we forget. I have been working in-house for MigSolv for the last two years now and have been asked by the board of directors to design something that could show our support and sympathy for the occasion with it being 100 years since the start of the first world war.
To begin I sketched a few ideas very basic to get my ideas out and then began constructing what I believed to be the best concept which is what this blog post will discuss in detail.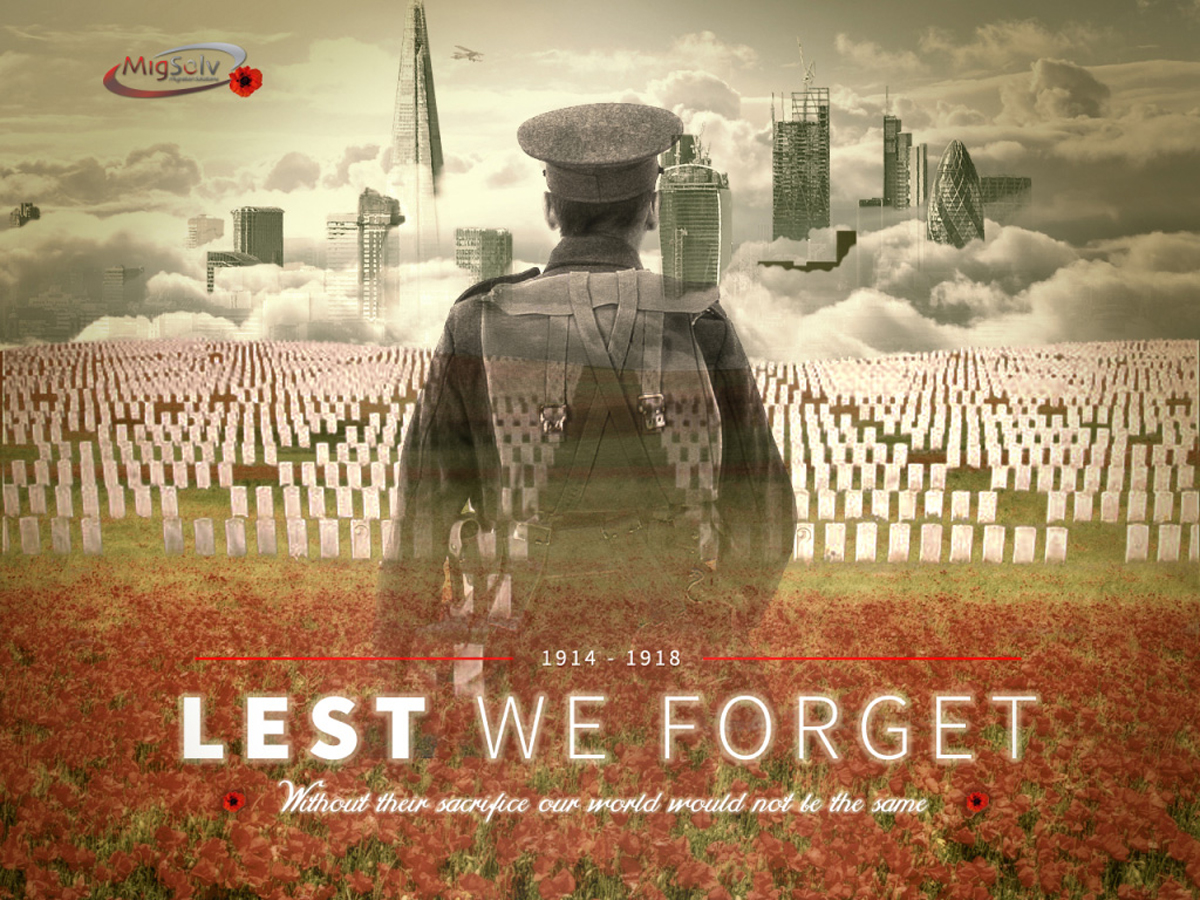 Lest We Forget Graphic Art Concept by JAWilsonDesign
The picture above is the image that was created for MigSolv Data Centre Specialists to commemorate the 100 year anniversary of the start of the war on all social media channels, a powerful image that attempts to evoke an emotional and thoughtful response by way of composition.
Composition of Lest We Forget
The composition of the image is made up of the ghost of a World War 1 soldier standing in a field of poppies looking out onto many war graves and the famous skyline of London in the clouds. This image is attempting to make the viewer consider what the soldier may be thinking about or world, their sacrifice and also whether their sacrifice was worth what they had to endure as well as maybe our world would have been totally different had it not been for the two world wars that so many sacrificed so much in.
Aged image
The image has a yellow tint to give it a look of age and although it is the past it also resonates with the present and the future life we are able to lead.
Typography of Lest we forget
The main text of 'Lest we forget' graphic art image was Source Sans Pro, a cold stark text that reflects the coldness of war and that sometimes we say 1,000,000 soldiers died which can be quite cold and impersonal and thus why the text below is in handwritten style to reflect each number is a real person, with a real family with real pain and memories of those atrocious times.
The website also reflects the social media image
The CEO also wanted the website to reflect the day's event and so I designed imagery around the slideshow to tell the story of World War 1.
Deciding to use real images of the war to eventually lead to the poppy field and the ghosts looking at our present situation it can be quite emotive and show how much MigSolv as a company and a people appreciates just how much was sacrificed and honours those both living and passed on in this terrible historical event.
Lest We Forget.
If you are hoping to get a special graphic design created for you, your business or another reason discover our graphic design services and see how we can help support you to create your vision.